Internet Safety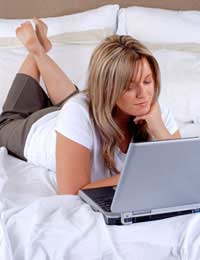 The Internet can be a remarkable research tool but it still remains something of a "Wild West" when it comes to being policed and regulated. This means that despite it's usefulness it remains risky to use. If you are just starting out online, or if you're an Internet expert looking for a refresher course, continue reading for some handy hints to staying safe on the Internet.
Spam
"Spam" is a word used to describe unwanted, and usually mass mailed, emails. It's similar to direct mail advertisements sent to your post box. Often spam simply advertises products, but it can also have viruses or other programmes attached which can infect your computer if you are not careful. As a general rule of thumb, do not open any emails if you don't recognise the sender or if the subject heading looks questionable. Make sure that your computer is always protected by anti-virus software and download new protection regularly. Some email programmes even have a special spam folder where most spam emails are "caught" and sent, but if some do find their way to your inbox you can manually move them to this folder and delete them forever.
Phishing
"Phishing" refers to spam emails that contain links to false websites, surveys or any number of other tools that are meant to elicit your sensitive information. Again, if you are not certain of the sender, do not reply to nor follow any links in an email. Certainly do not enter any identification, financial nor contact information at any time. Don't be fooled by a professional look, either. Just because an email has a logo or otherwise looks like a respectable organisation does not mean that it's not simply the result of someone with a few design skills and an ulterior motive. If you think that an email may be authentic, check with the organisation involved (for example, check with your bank if it is supposedly from them or a new research company that you are working with if that is who supposedly sent it). More often than not they will investigate the email and let you know if it is authentic or phishing.
Internet Fraud
Internet fraud can take many forms, from emails announcing fake lottery wins to online auction sellers who never send the goods to scam businesses that don't actually provide any type of goods or services. Internet fraud can also be found in users who masquerade as someone or something else. Bogus health insurance, prescription drug scams, work-at-home schemes, "adult services" and even scams pretending to help charities all proliferate on the Internet. In general, if something sounds too good to be true then it probably is. Stay away.
Identity Theft
Identity theft is a frightening new phenomenon on the Internet. With so much information being transmitted, some of it does fall into the wrong hands. Guard your sensitive information such as financial account numbers and pin numbers, family name information, birth date information and any social or medical care numbers. Also consider checking your online banking information daily and your overall credit score every year. Staying vigilant will help you keep your identity safe.
It can be easy to be overcome by the power of the Internet and to be lulled into a false sense of security. Stay on guard. The Internet is home to innumerable scams and schemes, and simply staying away from them is much less hassle than falling prey to one of them.
You might also like...