Online Databases for Investigative Use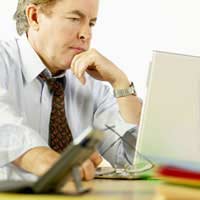 The Freedom of Information Act has led to a proliferation of electronic databases. Various methods for disseminating documents requested by the public were typically chosen for their cost-effectiveness. Ease of use was not always a primary concern. Consequently database technology providers took advantage of the need to aggregate information. They began to market easier access to compiled data in sectors where the information was most valuable: to legal practitioners, librarians, law enforcement agencies, and financial analysts. Public records have remained somewhat easier for professionals to locate for a fee than for the general public to obtain free of cost.
When your investigation would benefit from information contained in public records, you have a choice. If you have the time, you can query one database after another via the Internet or the local library. If you have the funds, you can pay a solicitor, private investigator, or other professional to conduct the search for you.
With the caveat that new information sources are continually emerging on the Web, here are some good places to begin your database research:
British and Irish Legal Information Institute
This source provides "access to freely available British and Irish public legal information" and is a particularly useful website for anyone researching statutes or case law.
Criminal Records Bureau
This agency of the Home Office handles criminal records disclosures. Though it does not process applications for disclosures online, its website describes how criminal records can be obtained strictly for authorised purposes.
Directgov
You can order a copy of a birth, death, or marriage certificate through this one-stop UK public service website.
Land Register Online
Obtain copies of title registers for properties in England and Wales on this site. Title registers include the property description, owner's name, and name of the mortgage holder. Included are selling prices of properties registered since April 2000.
The National Archives
In addition to explaining the Freedom of Information Act and how to submit a request for information, this government agency's website also provides do-it-yourself guides and information about paying for research.
Office of Public Sector Information
You can search UK legislation dating back to 1988 on this office's website.
XHIBIT
Her Majesty's Courts Service's website lets you view hearing information each day for every Crown Court in England and Wales.
Corporate Intelligence
The Companies House website lets you look up a business's date of incorporation, registered address, and previous names. Other online databases you can use to conduct research on businesses are described in
Finding Out About Current or Future Employers
.
Newspaper, Magazine, and Journal Archives
News archives can be easily searched via the BBC News; Ecologist; ENDS Report; Financial Times; Guardian; Multinational Monitor; Telegraph; Times Online; and other international, local, and alternative news agencies' websites. For newspaper archives not available free of charge on the Web, try the periodicals databases available at your local library or though your library's website. A portion of the vast number of scientific and trade journals is available on the Internet through the Directory of Open Access Journals. The remainder are accessible through your library's database services.
People Finders
There's no shortage of Web-based directories you can query using a person's name, address, telephone number, or email address. You can and should probably avoid those that require payment for information.
Social and business networking sites are among the most popular Internet resources. Newer, better, and trendier online databases and aggregators are always springing up on the Web. It's wise to conduct a search engine query for the latest information technology developments periodically. You can also get advice from your "Local Library," whose professional staff have an obligation to stay abreast of the latest technology trends. Better yet, register for an email newsletter or feed on the topic of your choosing.
You might also like...