Chat Rooms as an Information Aid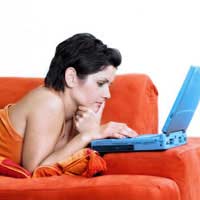 Chat rooms, bulletin boards, discussion groups, online gaming communities, social networking sites—all present potential sources of information to anyone willing to explore them. They are often compared to neighbourhoods, each with a peculiar atmosphere, jargon, and attractions.
Children are quick to adopt new communication and entertainment technologies. They can also be especially vulnerable to paedophiles and other criminals who assiduously prowl online communities for unsupervised youngsters that can be groomed for abuse.
Adults are also susceptible to seduction, exploitation, stalking, and fraud that originates online.
If you believe someone is in immediate danger, the local police should promptly be contacted to investigate.
Social networking sites can be a boon to a private investigator. With adequate precautions, it's probably safer to make contacts through online communities than to canvass on foot for information and leads. Online networking may also be a more expedient method of locating individuals with truly esoteric interests.
Before venturing into a chat room, group, or forum discussion, take the time to obtain a free, web-based email address to use instead of your personal or business email address. You may not feel the need to disguise your identity, but an alternate email address will help reduce the amount of spam triggered by online registrations and adware you encounter while surfing.
An anonymous email address won't protect you from lawsuits. After all, free email services still require registration and can be traced. Your participation in an online community is public. If you don't believe it, just look before you leap.
The Open Directory Project, at dmoz.org, organises the subject "Online Communities" into subcategories that can help orient you to their differences. The popularity of each type of virtual community can depend on how easy it is to use and on the enduring value of its purpose.
Chat Rooms
UK Chatterbox Chat Rooms and sUK (studentUK.com) are two examples of chat communities. Online conversations in chat rooms take place in real time.
Instant messages are similar to chats, but instant messaging is restricted to two people or a relatively small group of familiar buddies. Instant messaging is commonly referred to as IM and currently enjoys more popularity than chat.
Chat rooms can resemble town meetings, or they can involve role-playing, virtual sex, or online games with many simultaneous participants. Elaborate rules and jargon can sometimes make chat groups prone to cliques.
Discussion Groups and Newsgroups
Yahoo! Groups UK, Google Groups (including its beta version), and MSN Groups are three of the largest directories organizing hundreds of discussion groups by topic. Search features help locate specific users or subject matter, even with only partial identifiers.
Learning to participate in a discussion group is simply a matter of reading the help or FAQ features. Experiment by searching until you locate a group with interests relevant to your research. The person you're investigating may have posted revealing comments stored in an archive that you can easily access.
Forums
Forums made up of discussion boards are visited by communities of users that often have very specialized common interests. Their organizational structures can be rather complex, with message boards for multiple subtopics and numerous threaded discussions. A large number of forums exist for electronic gaming enthusiasts. Slashdot is one example of a technology forum.
The slight distinction between a discussion group and a forum is made by the way discussions are viewed by users. Group members are typically kept informed of new content by means of a feed that is "pushed" out to them. A forum is normally visited by its users. It can be said that forum members are "pulled" to the information posted on the discussion boards, although some users can sign up to receive email alerts when new content is added in a specified area. These differences seem to be disappearing as technology responds to the demands of users.
Blogs
Sites like MySpace, Bebo, Facebook, and YouTube have become some of the most popular communities on the Web. More than just blogs, these multimedia-enhanced networking sites can include message boards, instant messaging capability, and groups.
Revealing photographs and personal information indiscreetly posted by some members of these online communities have made them notorious. At the beginning of 2007, MySpace and YouTube dominated the social networking sites, attracting more than half of all traffic to virtual societies.
All online communities can be compared to nightclubs. Some will remain modestly successful with only a small number of regular patrons. Others—wildly popular and influential for a moment—will be quickly replaced by the next craze.
You might also like...