What is Spyware and How Does it Work?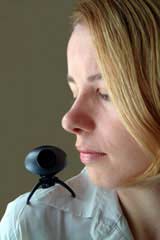 If your computer starts slowing down, crashing or behaving in a strange manner then it may have been infected by spyware, but what is it and how does it work?
Privacy Invasion
As the name suggests, spyware is a breed of programme that spies on your computer behaviour. These intrusive and sometimes malicious bugs skulk around the hidden corners of your system harvesting valuable information about where you go and what you do online. It can then pass your personal details to hackers or unscrupulous advertisers without you being the wiser. The info collected can then be used to bombard you with adverts or just choke up your computer so that it slows down or crashes.
Spyware can scan files on your hard drive, monitor private chat programmes and read cookies. Certain websites have been known to infect visitors with spyware so that they can sell them software they claim would remove it. At their very worst spyware can mine credit card details.
Secret Infestation
Spyware is alarmingly common in home computers, usually without their users being aware. Unprotected PCs in particular are often found to have a variety of different breeds of spyware running simultaneously. Although the creators of these naturally want them to remain as inconspicuous as possible, they are often badly coded and as a result interfere the computer operating system, making it slow down or crash.
Spyware is not illegal and not necessarily always up to no good; some legitimate marketing companies collect anonymous data for valid reasons and can be fairly open about what they collect.
More often than not, however, spyware is just created to make money in a ruthless and devious manner, either by picking up referral fees on adverts or by exploiting stolen private information. Its potential for harm far outweighs any benefits, and users are advised to try to avoid it all costs.
Adware and Malware
The term spyware is often used interchangeably with adware and malware, two slightly different but no less bothersome programme types. Adware installs secret advertising software on your computer that can generate pop-up ads or hijack your homepage or the links in web pages so you are taken to a different website than you want, typically a dubious commercial site.
Malware, short for malicious software, is usually designed to simply wreak damage to your computer system, much like a virus, or pass on your password to hackers.
Where Am I Picking Up Spyware?
Spyware is not something that affects all web-users indiscriminately; it tends to lurk in the web's darker recesses and prey on those with a fondness for free things.
If you frequent less reputable websites and download dubious files and software then you are putting yourself at a much greater risk of falling victim than if you are a light and casual browser of respected websites. Spyware doesn't just grab onto your computer as you innocently go about your daily surf, it needs an infection entry point, usually this is either in tricking the user into downloading something or, more commonly, when the user downloads something with disreputable origins.
This might be free software, peer-to-peer file swapping programmes - spyware companies pay these services to bundle spyware into their downloads - or a programme that claims will grant the user access to tons of free films and music.
Typically these entry points prey on users who want something for nothing. As with anything in life if it sounds too good to be true then it usually is, and in this case you just get burdened with insidious little spyware bugs.
Prevention
Spyware is typically caused by disreputable websites and programmes and so naturally it is best to avoid such web avenues when searching for preventative measures. Always opt for respected anti-spyware such as Ad-Aware, SpywareBlaster and AVG Anti-Spyware.
Alternatively, as spyware is almost exclusively an Internet Explorer and thereby a Windows issue, you could always opt to switch browsers and even operating systems.
Security updates in Windows and Internet Explorer have made great strides in attempting to deal with the problem but ultimately the control rests with the user. Stay protected and don't download something without first knowing what it is.
You might also like...