Investigating Civil Claims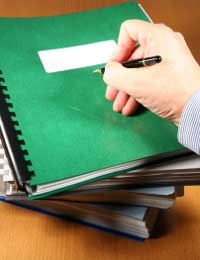 A civil claim is a lawsuit brought by one party against another in pursuit of a legal remedy for a grievance. Civil lawsuits can involve damage or injury claims resulting from accidents, crimes, defective products, malpractice, false arrests, libel, discrimination, or anything that causes harm in some way. Harm, of course, also includes death.
Most lawsuits never go before the courts but instead are settled or dropped with the agreement of all parties involved. Legal disputes can be resolved out of court through negotiation, arbitration, or mediation. The typical judgment or out-of-court settlement involves monetary compensation for harm done.
Your chances of winning a judgment or obtaining a satisfactory settlement out of court will be based on the amount and the quality of evidence you produce. The burden of proving a claim falls on the claimant. Whether you are the claimant or the respondent defending against a claim, the investigation of the matter is crucial to your success.
Compiling Evidence
Investigating a claim entails
compiling evidence
. Necessary evidence can include receipts, records, documents, photographs, video or audio recordings, diagrams, and the like. Evidence can also involve the testimony of witnesses and experts.
To win, one side will need a preponderance of evidence in its favour. This means either the claimant or the respondent must produce enough authenticated evidence to tip the scales—the universal symbol for justice.
The process of supporting your case should be a strategic one. If they exist, you will want your investigation to uncover:
Proof that harm occurred or did not occur
Who or what was responsible for the events that resulted in harm
The true cost of the harm
Any evidence of negligence, malice, or intent
Within these four categories, there can be many ways of demonstrating or refuting the validity of a claim. If you're working with a litigation specialist, mediator, or arbitrator, the person will suggest possible sources of evidence and avenues of investigation. On your own, you'll need to come up with these strategies yourself.
Conduct a bit of study at the library or on the Web. Lawsuits tend to be categorised according to litigation specialties. You'll notice in your research that certain catchphrases are consistently used to describe types of civil claims, such as "product liability," "wrongful death," or "breach of contract." Ascertain which overlapping categories your dispute falls within. Locate and read brief summaries of cases similar to yours to find out what legal strategies have been successful for others.
Your investigation can focus on the collection of evidence demonstrating something occurred in the past. It can also require you to show proof of ongoing activities that tend to disprove a claim. For example, you might need to obtain a video recording of someone operating a lawnmower to refute a claim that the person was permanently disabled due to an injury caused by a dog bite.
Think like the opposition. Anticipate what sort of evidence the other party will bring to negotiations or before the court. Ensure you have the facts to counter all of the opposing party's arguments. Be prepared to respond with persuasive evidence of your own. The last thing you or your solicitor wants is a surprise.
The stories of some minor civil claims and their resolution can be entertaining and even amusing. Perhaps maintaining a sense of humour is ultimately the best approach. Knowing in advance that an out-of-court settlement is statistically probable; you can save face by keeping a smile on it.
You might also like...