Compiling Evidence of Accident or Injury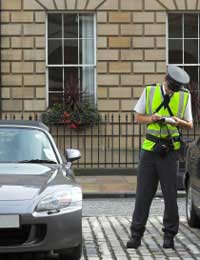 It's always a good idea to carry a pen and a checklist of what to do if you become involved in an auto accident. Even a minor collision can leave you stunned and unable to think clearly. If you fail to gather sufficient documentation at the time of the crash you might be able to obtain some valuable evidence through research after the fact. But it's much easier to get the answers you need at the scene of the accident.
The first thing you can jot down is the registration mark on the number plate displayed on the other vehicle involved in the collision. Record the colour, make, and model of the vehicle, too. The number plate may not actually belong on the vehicle.
Witnesses may not linger long enough to identify themselves, so immediately take note of their vehicles' number plate registration marks if you can.
If the other driver involved in the accident is capable of speaking to you, obtain his or her name, driving licence number, and insurer's information. If the other party is hospitalised, the police will release the person's information to you.
Collect any identifying information witnesses are willing to give. A witness may hand you a business card or tell you his or her name and telephone number, address, or email address.
Snap a few photographs of the accident's aftermath, if you have a camera or camera phone handy. Take pictures of any visible injuries you suffered and the damage to vehicles and property.
If a report is completed by a police officer, ask how you can obtain a copy. If the police did not respond to the accident, go to the local police station and make a report.
Notify Your Insurer of the Accident.
Save all of your receipts for vehicle towing and repairs, property replacement, doctors' fees, prescriptions, diagnostic tests, and medical treatments. These serve as proof of expenses you incur as a direct result of the accident.
Keep the receipts for any other expenses related to the accident or its repercussions. These can include things like over-the-counter medications, therapeutic treatments, cleaning, and childcare. Your costs can also include taxi, bus, or train fare, or rental car fees.
When possible, at the time you are seen by a physician, obtain copies of the medical records describing your treatment for injuries incurred in the collision.
Document any time lost from work or studies while you're injured or otherwise engaged in the process of recovering from the accident. This can include time spent having your vehicle repaired.
If injuries become apparent after the accident, take additional photographs of them. Bruising can take hours or days to become visible.
Solicitors who handle personal injury cases recommend keeping a detailed journal of any physical and emotional pain or difficulty you suffer as the result of your accident.
It can take quite a long time before you are able to conclude exactly how much an accident cost you. In the meantime, it's wise not to sign any agreements or legal documents in exchange for payment before consulting your solicitor, your insurer, or another expert.
You might also like...