Evidence For Your Private Investigation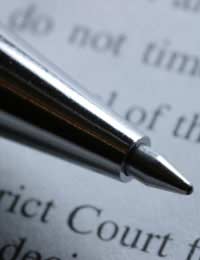 No matter what kind of investigation you'd like to conduct, you will need facts to convince others of your findings and evidence to support these facts. If you are conducting an investigation in the hopes of turning up legal evidence then you will need to consult a solicitor in order to better understand how this evidence can be obtained and what will be admissible in legal proceedings. If, however, you are conducting an investigation strictly for yourself or loved ones then you'll need to determine with what level of investigation you are comfortable and decide how you believe you can best carry out this investigation in order to recover evidence.
Equipment for Investigations
Regardless of the type of investigation you plan to carry out, it's always advisable that you stock up on some equipment in order to best preserve any evidence that you may find. A notepad and pen will come in handy for taking notes. A camera or video camera may be useful for getting images. A voice recorder may be useful for getting quotes or taped information. Keeping all of this equipment in a bag that also has room for assorted evidence items and bringing along a pair of gloves if you believe you will be testing for fingerprints might also be useful. Sometimes, however, the best piece of equipment you can bring for an investigation is a witness. Bringing along a disinterested third party who would be able to act as an impartial witness could be in your best interest, particular if this witness is someone that others trust and hold in high regard.
Obtaining Evidence by Surveillance
Surveillance basically just means watching something. You can keep surveillance on a person, place or thing. Surveillance can be carried out by someone or something, such as a wiretap, video camera or a CCTV camera. However, surveillance can be construed as a violation of privacy. For example, "tailing" someone to keep surveillance on them could be similar to stalking. Installing a video camera is particular locations could be against the law. If you are considering keeping surveillance on someone as part of an investigation for evidence, consult with a law enforcement or legal professional who will be able to advise you on what is and is not legal.
Finding Out Facts with Background Checks
Another, and possibly less risky, way of finding out facts as part of an investigation is to run a background check on someone. Legal background checks will be able to tell you if someone has ever been involved in a crime. These checks are used frequently for individuals who will be working with children or sensitive information and can be carried out by law enforcement agencies or sometimes by private organisations. Private investigators may offer more extensive background check, or you can conduct a type of background check yourself by checking into public records and on the Internet to see what type of information is connected with the person you are investigating.
Obtaining evidence as the basis of facts is an important part of any investigation. However, some methods of obtaining evidence can be morally questionable or even illegal. If you are considering undertaking a private investigation in order to obtain specific evidence, consult with a legal professional to make sure that you do not break any laws.
You might also like...
very skilled loyal fast learning thorough sociopath
anonymous
- 25-Apr-16 @ 1:03 AM