Where do I Start?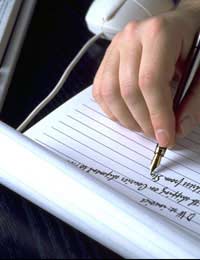 You have an idea where you want to go with your investigation. But how do you get there? Among the avenues of exploration which do you choose first? Where should you begin your enquiry?
DIY Spy gives you tips on how to find information and uncover evidence. Much like the design of this site, an investigation is a web of connected data. Rarely is there a direct, linear progression from question to answer. Instead, you will need to accumulate and sort information, evaluate findings, reformulate your objectives, and move forward in the most logical manner possible. What you choose to do first depends on how methodical and efficient or how intuitive and inspired you are. Ideally, you possess all of those qualities in equal measure.
Act Quickly
You'll need to react quickly when you encounter the chance to ask a question or pursue a lead. Retracing your steps will frequently be necessary, but your first opportunity to make progress will almost always be the best one.
Use this checklist to prompt some thoughts about your investigative strategy, but don't consider it a recipe. Success is mostly the result of diligence.
What is the allegation, suspicion, or question? Official investigations always begin with a written assertion. You can benefit from taking the time to record a basic description of your problem. The writing process will force you to define what you already know, and it will aid you when it becomes imperative to discuss your investigation with others.

Who is responsible for helping you solve the problem? List the people and agencies you may need to involve in the solution.
What laws apply? Odds are you won't be able to think of every statute affecting how you conduct your investigation or applicable to its outcome. Doing the legal research and obtaining the advice of professionals is highly encouraged.
What must you prove? It's far too easy to waste time when you don't have any identifiable goals to achieve. List each item you need to acquire, whether it's an address, a fact, or a piece of physical evidence.
Are there any deadlines? Take into account holidays, businesses' hours of operation, and inevitable appointment cancellations. Note time limitations on filing certain types of claims.
How will you present your findings? If you compile your evidence in a format you can easily share with a mediator, solicitor, government official, or research assistant, you'll avoid the daunting task of assembling a cohesive report at the end of a lengthy investigation.
Each new piece of information you obtain has the potential to change your entire perspective of the case. Unexpected evidence can mark a turning point that takes your search in a completely new direction. If you fail to remain receptive to all of the implications of newfound data, you'll risk overlooking the discovery you need.
If you find it difficult to explain your conclusions to others, or if you have trouble asking for advice, write down what you learn during your investigation. Writing will help you organise your thoughts. Don't be too concerned about appearing authoritative; it's more important to be honest. After all, if there were a precise formula guaranteeing investigative success, then success would be much more common than it is.
You might also like...
Need help on someone in my family who lives in Perth Australia and has messed my life up,because I was adopted to the family when I was 6 months and is ugly about it.He is my nephew.Also two who convey in neighbourhood called Cherry a woman who annoys me.Reg who is her acquaintance and is a traveller in the community staying in hostels in France and all of Southern England.These people have been around me since September 1996 since I moved to Salisbury.I want them out of my life some how covering me and spying on myself in public.Thanks MI6. From Roland.
Roly
- 18-Jul-16 @ 8:29 PM