Conducting a Private Investigation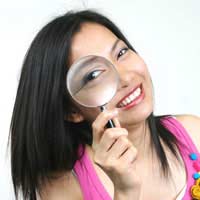 An investigation conducted by a neutral party is considered superior to research carried out by a potentially biased party. You may be capable of performing your own investigation but do you have the time to manage it thoroughly? As with any do-it-yourself project, your decision is based on the importance of the outcome. A thoughtful evaluation of the pros and cons is absolutely necessary before you begin.
What is the Purpose of Your Investigation?
Are you hoping to determine whether you should submit your CV to an unfamiliar company? Are you concerned your neighbours are operating a clandestine drug lab in their garage? Is petty cash disappearing from the office? Did you find a strange telephone number written in your spouse's cheque register?
At the outset, you can't predict what your research will ultimately reveal. Ask yourself whether your involvement in the investigation will affect the credibility of any discovery. Would it be beneficial if someone neutral, with nothing to gain or lose as a consequence, did the legwork?
If you're doing research on a company for which you might want to work, will you offend any of the firm's staff if you make telephone enquiries? Could another person make the calls discreetly on your behalf? Can all of your questions be answered with a bit of research at the library?
Will those pesky neighbours of yours retaliate, if you spot contraband on their property and threaten to report their illegal activities to police? Do you know enough about the illegal enterprise to recognise a dangerous situation when you encounter it? Is a surveillance camera mounted on the neighbours' garage and directed at your yard? Can you simply tip the police and then follow their instructions to safely gather information of value to an official investigation?
Are you the next employee in line for promotion should the star of the office turn out to be a pilferer? Will everyone's suspicions be redirected at you, if you single-handedly produce evidence of a colleague's wrongdoing? Often an accuser becomes the target of investigation as a diversionary tactic.
The telephone number in your spouse's possession may easily be traced to a salon in a nearby community. At that point, do you feel yourself becoming irrational? Are you realistically capable of conducting surveillance on the person you love? Would it be helpful to discuss your suspicions with someone who can remain emotionally uninvolved?
Don't Jump to Conclusions
Applying caution and reason in a stressful situation isn't easy. Righteous indignation can motivate many a fine person to act hastily or jump to conclusions. It hardly matters that your intentions were honourable, if your results are flawed and your accusations unwarranted. And you can't rule out the possibility that justified allegations might be utterly disregarded.
Distancing yourself from an investigation can sometimes be a prudent and effective thing to do. Results can be more favourable when the process of gathering facts is demonstrably impartial.
In legal matters, the evidence you compile will be of little or no value if it's not admissible in court. Is your experience sufficient to ensure compliance with the law? Lawyers, who serve as advocates for their clients, employ private investigators when they need to be able to show that information was gathered in a valid, even-handed manner. Such evidence is easier to introduce and more persuasive in court.
Address the issue of fairness in advance, if you hope to avoid scepticism regarding your stake in the affair. You may reach a point in the process at which the best course of action is to turn the investigation over to someone else. Not all matters requiring investigation are of grave importance. When they are of great consequence, the essential questions will be:
Were you able to remain objective?
Does anyone believe you were?
You might also like...
I am currently in a long term relationship (4years) and sadly have had strong suspicion that my boyfriend has been cheating on me for more than half of the relationship I have consumed my mind with worries, constantly trying to find the truth by using the computer etc but I can't prove anything 100% as he swears 100% he is not cheating. But I have this gut feeling he is bc a lot of suspicious things happen and I need to know for sure. I wish I didn't love him like I do but I do and in order to stay and be happy and not constantly worry sick that he is cheating. I don't have a lot of money but I'm suffering with trying to use the right resources to give me that definite answer. So far I believe if I could get into his iPhone and see his call log incoming and outgoing calls (he locks his phone and erases a lot I'm pretty sure) I need a way to obtain recovered call logs and texts. He has iCloud and I'm pretty sure I can see even deleted call history through his iCloud but again I don't know his password and I have no idea what website or spy ware is best and really cheap to buy. I always check his computer history but he deletes that. He is good at covering his tracks and I need to get into his iPhone backups I think I order to get the most definite confirmation of cheating. Please I'm begging someone to guide me in the right direction. I need to know. I need to either go on without him or go on with him and start a more secure and happy relationship. I want to have a baby one day and I need to know he isn't cheating bc for me I have horrible memories of bein cheated on and it actually makes me throw up bc nothing hurts me more. Please someone help me I need help with this :(
Jus
- 22-Sep-17 @ 1:32 AM