Suspicion and Looking at the Obvious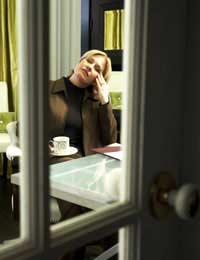 You presumably decided to undertake an investigation because of a suspicion. Maybe you think someone cheated you. Perhaps you want to discover legal entitlements. You might have been alerted to apparent misbehaviour. Or you simply long to talk to an old friend you haven't seen in years. You're already imagining the potential outcome of your search. You can't avoid hypothesising. After all mysteries are fascinating.
There is an invisible barrier between you and your investigation's successful conclusion: your hidden assumptions about what you might find. But like most of us, you're unaware that your unique perspective limits what you're capable of seeing. The best you or anyone can hope for is to acknowledge the existence of blind spots. You can take precautions to compensate for them, but you can never completely eliminate them. You're only human.
Objectivity is a quality acquired through discipline and experience. If you have it, you'll make a superior analyst. You can teach yourself to be more open-minded by understanding and remaining aware of how two psychological phenomena affect your perceptions.
Confirmation Bias
It's been fashionable to accuse the police of looking for criminals only among populations they consider likely suspects—perhaps young people, minorities, or the economically disadvantaged. As the argument goes, such bias has a disparate and invidious effect on particular groups of individuals. Police officers' actions are routinely scrutinised for any sign of illegal profiling or discrimination.
Looking for trouble only where you believe you'll find it is an example of confirmation bias. The term is employed by scientific researchers to describe the tendency to look for and assign more importance to evidence that confirms your hypothesis while ignoring or discounting evidence to the contrary.
Your grandad might have said, "The best place to hide something is in plain sight."
Fundamental Attribution Error
As an investigator and a human being, you will naturally be inclined to see what you expect to see. You will also tend to misinterpret your findings—a mistake in judgement referred to as "fundamental attribution error." Psychologists use the phrase to describe our natural tendency to believe that other people's behaviour can be explained by their innate personality traits rather than by the specific situations in which they find themselves. A deeply honest person will admit reluctance to blame his or her own misbehaviour on an essentially flawed character. Sometimes circumstances beyond control make unpleasant choices compelling. Yet the same person may be unable to acknowledge that another human being's actions were influenced by a particularly unfortunate chain of events, rather than nefariousness.
Techniques you can employ to reduce fundamental attribution error include paying close attention to societal norms, putting yourself in the other person's shoes, and actively looking for the less obvious answers.
The more information you're attempting to sort quickly, and the more emotionally charged the situation, the less objective you will be able to remain. Information overload will occasionally drive you to commit a fundamental attribution error, because it's the easiest explanation. It's the knee-jerk reaction. It's automatic.
Staying humble can give you a clear advantage in this process you've begun. We all tend to think of ourselves as being above average and free from prejudice. The moment you start thinking you're not biased, well, is the moment you've revealed a blind spot to your bias.
You might also like...
I beleive my wife has cheated on me . I have evidence in media but theyre very inconclusive because it'd blurry and muddy. it was done in my house while i was sleeping. can someone confirm of help me with the media i have so it's clarified. I mean mostly for audio.
dftd
- 31-May-16 @ 4:01 PM