Telephone Use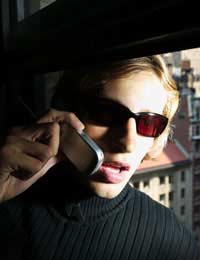 Telephones are among your primary means of gathering information. Knowing how to exploit all of a phone's features is an important asset to any investigator.
Concealing Your Identity
Your first question may be how to conceal your identity when using your telephone. Some phones allow you to dial 141 immediately before you place an outgoing call which will block the display of your phone number on the recipient's phone or caller ID. You may also be able to purchase a caller-ID blocking feature from your wireless service provider. The best alternative, if you can afford it, is to activate a second phone line with a separate number to use only for calls related to your investigation.
You can buy a piece of equipment that will disguise your voice when you're using your telephone. However, the results are markedly noticeable, and you'll probably only succeed at alienating anyone you attempt to deceive.
Telephone calls are easy to intercept. If you're concerned about someone eavesdropping on your conversations, then don't conduct any important business on the telephone.
Looking up Mobile Phone Numbers
Do you need to trace the subscriber to whom a mobile phone number belongs? There are hundreds of reverse look-ups for telephone numbers on the Internet. Relatively few allow you to look up mobile phone numbers, and those that do include only voluntary listings. Intelius is one company that charges a fee for the information. As an alternative, you can employ an Internet search engine to conduct a query for web pages that contain a certain telephone number. With a search engine, you can locate a website on which a phone number is listed as a business or personal contact number. In fact, phone number searches are excellent for narrowing query results.
Are you trying to identify the source of your incoming phone calls? You can install a device to both record and log all incoming and outgoing calls. The record will show the phone number, date, time, and duration of the calls. You can also buy a touchtone decoder to translate sounds in previously recorded messages, if you can hear the tones on the recording.
Recording Calls
Surreptitiously recording even your own telephone conversations can be illegal in certain circumstances. Refer to the DIY Spy articles on
surveillance
and
employment investigations
to learn more about complying with the applicable statutes.
Before buying a recorder to use with your mobile phone, take into consideration its size and ease of use. Purchase a recorder that is simple to operate and effortless to carry. Digital recorders can be easier to use than tape recorders, especially when it comes to making duplicate recordings. Sound files can be stored on a variety of digital storage media. The recorder you choose should permit you to transfer sound files rapidly. You don't want to spend one-third the length of time your conversation actually lasted tediously transferring the recording of it to permanent storage. If your recorder has a voice-activation feature, you should be sure you know exactly how it works, or you could find yourself with a blank record of an important conversation or interview.
Extracting Data from Mobile Phones
If you're familiar with a particular mobile phone model, you'll be able to locate much of the information stored in it, which can prove valuable to your investigation. Possibilities include the log of incoming and outgoing calls, the user's phonebook, text messages, images, calendar entries, audio and multimedia recordings, GPS information, and the phone's unique identifiers. However, if you don't normally use these features, you'll spend a lot of time searching for them. If you're not sure how to navigate the phone's menus and submenus, you'll risk overlooking crucial data. Most mobile phone user manuals can be downloaded from the Internet. If the information stored in a phone is vital evidence, or if some of the data have been deleted, it may be time to call in a digital forensics expert to recover what you need. Of course, for less crucial matters, the assistance of a tech-savvy teenager might suffice.
You might also like...