Local Library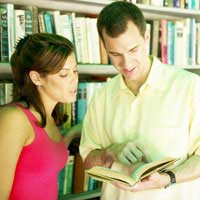 A trip to your local library can be the ideal way to jump-start your investigation. Public libraries offer patrons free access to reference books trade publications, and subscription databases that are costly investments. Don't hesitate to seek the assistance of a librarian who can direct you to the section and resources most relevant to your research. If you stick with the same familiar reference material, you might be missing something newer and better in the next aisle.
If you can't visit the public library in person, librarians can answer brief questions by telephone or through these websites:
People's Network
National Library of Scotland's "QuestionPoint"
Open University's "Librarians on Call"
University of Teesside's "Ask a Question"
You can conduct research on a particular company by visiting the library's business section. Another avenue of investigation might involve uncovering free sources of public records. Most libraries have extensive information on genealogy. Studying a particular occupation or special interest can help you establish a basis for interviewing potential witnesses or experts.
General topic categories in which you'll find useful information include:
Freedom of information
Genealogy
Personal injury
Private investigators
Rules of evidence
Newspapers and Magazines
Newspaper and magazine archives are rich sources of information for any investigator. News articles have the advantage of being brief and easy to understand. They can also suggest directions for more in-depth investigation. Your library may offer its patrons access to its periodicals databases through the library's website.
The Directory of Open Access Journals website lists professional and scientific journals that provide their content freely through the Internet. Many more law journals are made available through proprietary databases to which your local library can provide access.
If you want a better understanding of how to navigate the justice system, expect to log some hours reading about legal statutes, the courts, and case law. The University of London Institute of Advanced Legal Studies publishes guides on its website to legal research in the jurisdictions of European Union member states. Also available on the Web is the Kent Law Library's guide to conducting legal research. Resources and tutorials mentioned on these websites are available through your local library.
Using a library will give you an enormous advantage if you're among the many people who find it difficult to distinguish reliable, authoritative information from rubbish when conducting research on the Internet. Furthermore, libraries contain information not yet available in digital format, which you will never find online.
It can be tempting to purchase do-it-yourself guidebooks that promise to reveal the secrets of successful private investigators. The same information can often be borrowed from the library free of charge, but without glitzy advertising it may fail to grab your attention. If a book seems interesting and relevant to your investigation, check the copyright date. If the volume is more than a few years old, then choose a more current edition or supplement older reference materials with more up-to-date information. Changes in the law and rapid advances in technology mean any resources can quickly become obsolete.
If your computer skills are minimal or you're unsure whether the material you find on the Web is credible, then you will do better to seek information from your public library. The key to effective research is knowing where the information you're looking for ought to be found. The person who can answer that question is very likely to be a librarian.
You might also like...