Compiling Information or Evidence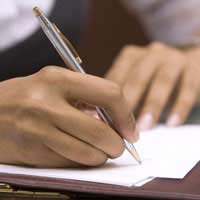 How you go about compiling evidence will depend on your ultimate objectives.
Is there a possibility your investigation will uncover evidence of a serious crime? If you believe it might, then the manner in which you plan to collect and document evidence will be of the utmost importance. In fact, if you take part in the process of gathering certain types of evidence when you have a personal relationship to the individual suspected of wrongdoing, the validity of the evidence can easily be called into question. If a reasonable person might wonder whether you could have fabricated or tampered with evidence in order to implicate someone in a serious crime, then you should leave the evidence collection to the authorities and act only according to their instructions.
Let's assume you're launching your own investigation into something that's morally offensive to you but not a crime. Or, let's say you're gathering and documenting information about a crime so minor that you have the legal right to decide whether the person responsible is prosecuted. Perhaps you simply suspect someone cheated you. In these situations, you face considerably less liability if your investigation is less than perfect. If the stakes are relatively low—or the information you gather is solely for your own use—then you may be willing risk the possibility of failing to meet evidentiary standards established by law.
Always take care not to violate the law in order to gain access to information or evidence.
Gathering Information Effectively
To ensure evidence and information are gathered effectively, the first step is to devise a method of keeping a record. Create a simple log consisting of at least the following categories:
Date and time
Location
Source
Source address, telephone number, email address
Number plate and description, if applicable
Description, information, statement, etc.
Tangible evidence collected, including its position and condition
Disposition of tangible evidence
This type of record can help to document telephone harassment, missing household items, suspicious traffic in your neighbourhood, or similar complaints. If you intend to be thorough, you'll log your unsuccessful efforts to gather new information, as well as your effective strategies.
The log itself becomes a piece of evidence. Your notes, in the form of a log, become a chronological record of your investigation and the suspicious events that led to it.
Evidence comes in many forms. It can consist of the statements of individuals who have direct knowledge of the problem that concerns you. It may include mere rumours and gossip, as well as background research and witness statements. All of it should be recorded in your log.
You may also obtain evidence in the form of records and documents, such as call detail lists, credit card transaction statements, photographs, letters, court documents, recordings, and sales receipts. The location and condition of each item, and how you obtained it, should be described completely in your log. It can prove useful to photograph the item in the place where you find it, before it's disturbed. The photograph then also becomes a piece of evidence and should be accurately labeled with the date, time, location, and photographer's name.
You will, of course, want to secure any items of physical evidence in a container or envelope labeled with the collection date, location, and your name. The container or envelope should be sealed only if the evidence is completely dry.
Special Handling
Certain kinds of evidence may require special handling to preserve their integrity and value as forms of proof. It's extremely easy to destroy delicate evidence such as fingerprints, email, digital photographs, other types of electronic data, or substances to be analysed for DNA. You should handle such evidence as little as possible, if at all. The advice or assistance of a forensic expert will probably be necessary. In some cases, you may need the assistance of a solicitor to obtain a preservation order to prevent the deletion of digital evidence that you know exists but are unable to access on your own.
Weapons can harbour several types of evidence simultaneously, in addition to presenting an inherent danger to you and to others. There is almost no other way to ensure the proper collection of a weapon as evidence of wrongdoing than by turning it over to the police. The same is true for chemicals used in the manufacture of illegal explosives and drugs, even small quantities of which can be catastrophically harmful. The safe thing to do with weapons or chemical evidence is contact an expert official.
If you are careful and systematic in your collection of information and evidence, you'll help to establish that you are a reasonable person and that you acted in good faith. The process of logging your investigative efforts will allow you to reassess your conclusions as new information comes to light. Patterns may appear that might otherwise have gone undetected. Most important, when the time comes to do something with your evidence, you'll have the necessary documentation to support any accusations, and it will be much less likely for your concerns to be disregarded.
You might also like...
spike - Your Question:
How do I get the proper evidence to show non receipt of my share of profits from a rental property?
---
Our Response:
What information do you have? If you have records of all the rental payments and expenses plus any payments made to you, would this not be sufficient?
DIYSpy
- 6-May-16 @ 2:27 PM
how do I get the proper evidence to show non receipt of my share of profits from a rental property?
spike
- 5-May-16 @ 6:16 AM