Investigating Current or Future Employers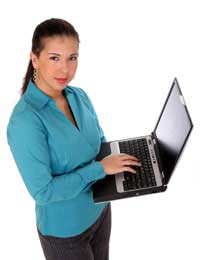 Before conducting research on a company you'll need to know the business's correct name and address. For certain types of online queries, it also helps to know the company's unique stock exchange symbol.
A company's own website is a good source of basic data, but it is primarily a public relations and marketing tool for the business. It won't reveal anything detrimental to the company's image.
Where to Start
WebCHeck, a free service provided through the
Companies House website
gives data such as a business's date of incorporation, registered address, and previous names. More detailed information is available for a fee.
Work Smart, a Trades Union Congress website, also provides basic details on more than 1 million public, private, and overseas companies.
Google Finance, and Yahoo! Finance are two online resources that provide free details about publicly traded companies. If the company doesn't have a stock exchange symbol, then it's not traded on a public exchange. You can order a company's annual report for free from the London Stock Exchange. Hoover's UK and Hemscott provide a limited amount of free online information about public and private companies. The financial data is intended for investors but can be useful when researching an employer.
If you're having a difficult time locating a precise business name, you may need to use a search engine to query by street address or telephone number. Google Earth can give you an aerial view of the company's headquarters, which is sometimes enlightening.
If you can't find the company online, your local public library or the Business Information Focus @ the City Business Library will be happy to help. Public libraries subscribe to a large number of databases and provide library patrons with full access to database content that includes business records, newspaper and magazine articles, professional journals, and more.
Expand Your Research
Your local Consumer Support Networks member agency may be able to provide critical information about the company you're investigating.
A simple Internet search engine query by business name or the names of company principals may yield relevant news items or press releases.
In your public library's index of periodicals, you might find a list of published articles about a particular business or its owners. A librarian can help you explore print and digital resources unavailable on the Web.
Plenty of companies gather business intelligence for a fee. You may want to engage the services of a professional, if you're conducting an investigation prior to making a significant financial investment. "Due diligence" is another term used to describe research on which decisions about corporate mergers and acquisitions are based.
Delve Deeper
When forearmed with basic information garnered online, from the library, or through consumer agencies, you can better evaluate people's opinions of the business you've targeted.
With a little persistence, you may be able to arrange to interview a current employee of the company. An informational interview is an excellent way for a job seeker to network.
If the business you're investigating is truly obscure, contacting employees, former employees, or neighbouring businesses might be your only means of acquiring useful intelligence. Read more about methods of conducting door-to-door research in Canvassing.Polite enquiries are good business. It's your right to find out crucial details about a company before deciding whether to invest your time, effort, or financial resources. No successful businessperson would do otherwise.
You might also like...