Stopping A Stalker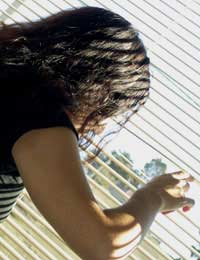 Having a stalker is a terrifying situation. No one would want to have their personal space or privacy invaded, and certainly not by someone who is also acting aggressively or otherwise frightening their victim. Unfortunately stalkers don't just happen to someone else, they can happen to anyone. Stalkers can be known or unknown to the victim, but what they all have in common is that they are inserting themselves into their victim's lives to such a degree that the victims fear for their own safety. Thankfully there are some things that victims can due to try to stop a stalker including reporting the crime to the police and to friends and relatives, asking for a court order against the stalker, keeping notes of the stalker's behaviour, taking self defence classes and limiting time alone.
Stalking in the United Kingdom
There is no legal definition of stalking the UK, but it is widely accepted that stalking involves uninvited and consistent following and/or communication of another person. Stalkers, then, are individuals who perform these behaviours. Quite often the term "harassment" is used to describe these behaviours as well. To this end, the Protection from Harassment Act 1997 is the major piece of legislation governing stalking in the UK. Cyberstalking, or stalking someone via electronic means such as by sending repeated emails, is now also regarded as a form of stalking.
Report the Crime
Letting others know about a stalker is the first step to stopping a stalker. Reporting the crime to the police will let them know that there is someone to look out for who may be about to perpetrate other crimes and it will also help the victim understand that (s)he has support. Reporting the crime to relatives, friends and colleagues will also help them all be on the look-out for the stalker and help the victim feel safe and secure. By getting more people involved in the case, a victim can take back some of the power that their stalker has destroyed. Not only does telling others about the stalker help the victim rally support, but it also sends the strong message that the victim does not condone, approve of or encourage the stalker's behaviour.
Ask for a Court Order
If stalkers persist, victims can ask for a court order against the individual to help with stopping a stalker. Harassment orders set limits on how much interaction an individual can have with another for a set period of time. More recently "reverse tagging" orders can also be issued which require the victim to keep a monitoring device in their home so that if the accused stalker comes within a pre-set measurement the device will go off and alert the police to the stalker's presence. Individuals who feel that they need the protection of the courts should discuss their situation with an experienced solicitor so that they can review all of their options.
Keep Notes
Whether or not a victim has alerted others to the crime, (s)he should keep notes of all of the stalker's behaviours. Every time the stalker is seen, makes contact with the victim, leaves something for the victim to find or otherwise interferes in the victim's life should be noted. These notes may become invaluable later if they are needed as evidence of the stalker's behaviour in order to help stop the stalker.
Take Self Defence Classes
While it is not advised that victims attack their stalkers, taking self defence classes is a good way for victims to feel more confident in their own abilities. Knowing that they can protect themselves should help victims feel more comfortable and will give them more information on how to project this new confidence to others – including their stalkers.
Limit Time Alone
While it is unfortunate that victims will need to change their own lifestyles because of a stalker, this is often the case. Limiting time alone is a good idea for victims who fear that a stalker may make further contact or harm them. Because this may impact their personal, social and/or work lives, letting others know why they do not want to be alone is critical for victims of stalking. Once they disclose the situation, others will likely be more than happy to pitch in.
You might also like...
There is.someone's watching.me following me get.into.my property and turns gas on cooker gets through.mortice lock with.a.driver. someone would bears a grudge hates me.for some reason.and.lowers themselves to stalk.me Been.doing.ir for yearsl just ferl sorry.for there mother wife sister who don't know.what they do
ging
- 18-Nov-17 @ 9:43 PM