How to Tell if You're Being Watched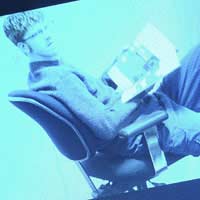 It's fair to assume you're always under surveillance in public places such as shops, banks, hotel lobbies, restaurants, government buildings, transportation hubs, and schools. As a security expert for a world-famous retailer recently noted, there's not a square foot of sales floor that isn't covered by a surveillance camera. People tend to accept monitoring as a safety precaution anywhere the public gathers and where signs advise that observation is taking place.
You can also take it for granted that your buying and viewing habits are being documented. We all know there are records of our phone calls, purchases with credit or discount cards, video rentals, library usage, Internet surfing, financial transactions, voter registration, driving records, medical treatment, education, professional licensure, and criminal history. Any of these can be retrieved if and when the situation warrants, although it might require a court order.
There are some areas of your life where the protection of your privacy is more customary and you might want to know if you're being watched.
Workplace Surveillance
Many people find monitoring in the workplace bothersome. Employers can have legitimate reasons for watching work stations, listening to employees' telephone calls, tracking company vehicles and equipment, or reviewing electronic data such as email or Internet use. However, they must notify their personnel if surveillance cameras, audio recording devices, or other monitoring schemes are in place. Warnings are typically found in employee handbooks or posted work rules. Employee monitoring must also be appropriate and necessary. The Business Link website describes how the law applies to surveillance and security of staff.
There is always a possibility employees will record or document each other's behaviour. It's not necessarily wrong for a staff member to secretly record her own interaction with a co-worker. As long as the topic of the recorded conversation isn't confidential in nature, there's probably no privacy violation.
GPS Vehicle and Phone Tracking
Although there are many types of scanning equipment sold for the purpose of counter-surveillance, they rely on the detection of radio transmissions. Scanners emit signals if radio waves are present. If a scan is conducted between transmissions, the surveillance device can go unobserved. A more reliable but tedious method of sweeping for transmitters is a visual and manual inspection—looking carefully for anything out of the ordinary and feeling with your hands for hidden devices. Tracking devices are often concealed in a vehicle's wheel well or bumper, inside a glove box or an interior storage compartment, around the engine, behind the dashboard, or under the seats.
GPS tracking of mobile phones is also possible, though reputable service providers sometimes make efforts to indicate to their users when a phone is being monitored. Counterespionage experts recommend simply turning off your mobile phone and removing its battery when you don't want your location to be traceable.
Wireless Recording Devices
Miniature wireless audio and video recording devices, or bugs, can be placed virtually anywhere and are no longer terribly expensive. The same techniques used to sweep for mobile tracking devices are employed to detect wireless devices that transmit signals to remote recording equipment.
Hacking
Also of concern is the potential for an intruder to capture electronic data stored on your computer. One way of checking for unwanted activity on a computer running Microsoft Windows is to shut down all of the software programs and then press Ctrl + Alt + Del to view the Windows Task Manager. The system performance and other measurements should reveal any unauthorised activity. With all but the Task Manager shut down, there should be almost no system activity. If unusual usage is detected, it might be the result of spyware or a network intruder. If you discover a problem, you can install network security software or have an expert examine your hard drive.
Physical Surveillance
Detecting surveillance being conducted in person the old-fashioned way is a matter of being extremely and perpetually observant. The best professional surveillance involves multiple participants. No less than three surveillance experts is an optimal strategy, but two or one might be employed if cost is a concern or the target of the surveillance is stationary. Surveillance is usually conducted with the aid of a vehicle, so counter-surveillance involves taking notice of anyone loitering in or around a car or van. A professional would not normally choose to conduct surveillance using a vehicle that was in any way remarkable for its colour or style, and the same is true for his or her clothing.
The best vantage point for performing stationary surveillance is above the subject. Most people don't look up. If you think you're the target of moving surveillance, you can stop and reverse your direction, whether you're on foot or in a car. The reaction of the person you think is following you might be revealing.
Covert surveillance is easiest to implement at a target's home or worksite, so those are the places to look most carefully for signs you're being watched.
You might also like...
My family and I are constantly watched.What can we do. Even our cars are being watched we are marked can I get some assistance please. Kind Regards
Trinitodbone
- 7-Sep-18 @ 9:36 PM
What about stuffed animals? How do you detect stuffed animals?
Melly or Mellada
- 7-Aug-12 @ 8:01 PM