Family Suspicions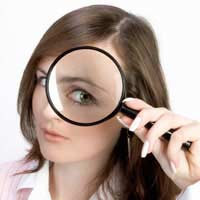 The hallmarks of a private investigation are supposed to be objectivity, independence and an absence of bias. If you feel suspicious of a family member and intend to conduct your own investigation into the matter, it's not possible for your findings to be considered impartial. That's not to say you shouldn't endeavor to discover crucial information in an effort to prevent a family tragedy. You simply must keep in mind, at all times, the extreme difficulty of seeing and thinking clearly when you have a vested interest in the outcome of your research.
It's a fact of life that people cannot predict their own reactions to disturbing information about the behaviour of loved ones. We're all endowed with the amazing and functional capacity for rationalisation and forgiveness, as well as rage and denial. Not only the results of an investigation into something like a son's gambling addiction, but the investigative process itself, will have lasting effects on everyone involved. Trust will be breached, pride will suffer, and relationships will be permanently altered.
When you launch an investigation based on mere suspicion, recognise that you're starting with only a few pieces of a puzzle. You may have observed symptoms. You don't yet have a diagnosis. If you begin with a foregone conclusion, you'll only hamper your own efforts and damage your credibility.
How can you remain as objective as possible? Evaluate the information you gain during your investigation just as you would critically assess an advertisement for a major purchase or an opportunity for a financial investment. Think of the evidence you possess as it might be viewed if presented in court. At every step of the way, ask yourself whether you can honestly say you know something as a fact, or if you simply feel in your heart that it must be true. Your intuition is an indispensable guide when it comes to making sense of the information you gather, but it's no substitute for proof.
Do Your Homework
Obviously, if you're reading this, you already recognise the importance of preparing yourself with a thorough understanding of your subject matter. Begin by arming yourself with research on the problem at hand, and you may ultimately discover evidence you otherwise would have overlooked. We're not all acquainted with the drug subcultures, gamblers' jargon, symptoms of alcoholism, intricate networks of organised crime, the design of fraudulent financial schemes, or even typical romantic deceptions. A great deal of helpful background information on most of these subjects is available on the Web. There are also support groups and counselling resources for anyone seeking knowledge, reinforcement, and assistance.
Whether you want to obtain relevant information online, at a library, or directly from an organisation, you'll need to begin by defining or explaining the problem. If possible, try describing the evidence you possess, rather than what you infer from it or what you've begun to suspect. Let the Internet search engine, a librarian, or the expert you contact draw some preliminary conclusions. Do they match yours? In this manner, you can support or modify your own analysis of the evidence.
Once you think you've identified the problem areas that require further study, take time to read about the issues. You may want to gather information about cocaine use as well as attention deficit disorder. You might need to study supremacist cults and also weapons trafficking. In the process of learning more about street gangs, the topics of shoplifting or identity theft may surface.
The more open you are to learning, the better your investigation will be.
Listen to the Answers
When you anticipate confronting a loved one with your suspicions, it's easy to let emotions take over and rush in with an accusation. A good investigator is patient and, at least on the surface, non-judgmental. A thorough investigator listens. True listening is a skill that requires practice and more than the typical capacity for humility. If you approach every situation and ask every question with the intention of learning something, you will.
When your feelings for a loved one are involved, it can be difficult to hear exactly what you're being told. If communication is a problem, consider writing down the exact statements you're given. If the person you suspect of wrongdoing is particularly adept at lying, and yet possesses a miniscule conscience, he or she is likely to tell you the truth camouflaged in a way that prevents you from recognising it.
An unfaithful lover may sarcastically exclaim, "So, you think I've been with prostitutes?" Honest, literal, objective examination of such an assertion reveals it's not precisely a denial. You can sometimes counter this deceptive tactic by being willing to ask explicit, difficult questions and by appearing emotionally strong enough to cope with truthful answers. Of course, it's always better if you're not faking the emotional resilience.
If at any time you become unable to contain your emotions, then you are only normal. In the process of your investigation, you will develop contacts to whom you can reach out for support. Never hesitate to rely on the clear thinking of an uninvolved party and the assistance of trained experts. Don't let yourself become part of the problem.
If you are the rare person with the capacity to effectively and impartially investigate your suspicions concerning a member of your family or a loved one, you will be in an enviable position. Your self-control will enable you to provide the support and love the wrongdoer needs in order to choose a path to change or recovery. You will also be more able to do what is morally right and healthy for yourself.
Remember that identifying and obtaining proof of a problem you suspected are only the first steps. You and your family can get help taking the next steps: devising and implementing a solution.
You might also like...