Investigating Landlord-Tenant Disputes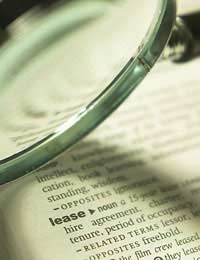 In the excitement of moving into a new residence, the last thing on your mind is the potential for problems with the neighbours, landlord, or household repairs. Nevertheless, it's an excellent idea to take photographs of a rental property before you occupy it. Property managers can do the same to protect themselves from potential losses.
Problems
When a problem with a tenancy arises, the first thing to do is review the rental agreement—the contract you signed when you leased the property. The document should answer basic questions about responsibility for maintenance and repairs, restrictions on use of the property, and penalties for breaking the lease. When you signed, you agreed to the conditions described in the contract.
After consulting your lease agreement, make your complaint to the landlord or rental manager and try to work out a solution with the person responsible. It's always best to explain the matter in writing. Keep a copy, so you'll have a record to which you can later refer. Remember that if your complaint concerns needed repairs, you must make arrangements to provide access to the property so the work can take place. You normally cannot withhold rent payments as a means of leverage in a dispute.
Both tenants and landlords have statutory rights. The interpretation and application of the law can be tricky, but there are many resources available when you need help dealing with a housing problem. The Citizens Advice Bureau website offers guidelines for resolving neighbour, tenant and landlord disputes. Look in the "Housing" section of the site for information on "Common problems with tenancies." You can also refer to Shelter, the housing and homelessness charity in England, Wales, Scotland, and Northern Ireland.
Dispute Resolution
The sheer numbers of neighbourhood and housing disputes necessitate some means of resolving them other than litigation. In fact, before the courts will consider hearing a claim concerning a tenancy dispute, the involved parties will probably be required to demonstrate what steps were taken to settle the matter out of court. Refer to the DIY Spy articles about
compiling evidence
,
investigating civil claims
and other basics to learn how to support your complaint with convincing proof.
In addition to solicitors, other types of agencies that can assist with alternative dispute resolution are mediators, arbitrators, and ombudsmen. The British and Irish Ombudsman Association can also help you with a complaint regarding a landlord who is a member of a social scheme.
Cases of harassment and other potentially criminal offences should be reported to the local police agency or your local council's tenancy relations officer.
Eviction
When disputes reach the point of eviction proceedings, there is usually no love lost between the individuals involved. However, all parties must continue to abide by the law in order to avoid civil and criminal liability. For example, a landlord is required to give a tenant the correct form and amount of advance notice of an eviction.
The crucial factor in the complexity of an eviction is the legal status of the resident. Briefly, this can mean:
A person who is a short-term guest of the renter or property owner usually needs only to be instructed to depart
A renter who is no longer occupying the property has probably given up the right to tenancy, provided there is a legal and clearly articulated abandonment clause in the rental agreement
After being appropriately warned by law enforcement officials of illegal activity involving occupants of a residential property, an owner who permits the illegal activity to continue faces a risk of having the property declared a nuisance, seized, and forfeited
A property owner who attempts to evict an occupant without complying with the required legal eviction procedures can be accused of harassment under the provisions of the Protection from Eviction Act
Don't rely on friends' advice or resort to illegal tactics for relief from housing headaches. The most gratifying and effective strategy is to know and invoke your legal rights calmly and patiently and to provide solid evidence as proof of your claim.
You might also like...
Hello, I moved to a townhouse in Isleworth, the estate agent did not mention anything about the noise of planes which fly very often over the house, the ship repair workshop opposite the house few meter from the house, also that the landlord was going to change the doors and windows of the house. I moved in with all these noise and difficulties with being stuck at home to wait for the workers to come and do the job, I lost many days of work and became stressed, depressed and got even heart problem. I complained to landlady and she said: it seems that you are unhappy, it is best you move out and she said by November you have to move out of the house. I told her I am in the middle of treatment with GP and hospital but she said that her mother is also ill and practically doesn't care about my health situation and treatments. I finally moved out of the house and now she is sending me claim form for the rent that I was suppose to pay her if I had stayed until the end of January. I am so unwell that have travelled to Sweden to my sister and the landlady is still hating me and making me even more stressed. Can you please help me. Thank you so much, Mitra