Confrontation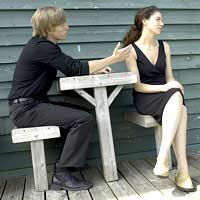 Drug abuse, gambling addiction, alcoholism, sexual infidelity, financial irresponsibility and criminal behaviour are harmful to more than just the person who is the source of the problem.
Living with, caring for, or loving someone who is out of control affects your health and welfare. When you recognize it's time for a change, the biggest obstacle can be the confrontation.
You have the right to remove yourself from harm's way. Your first step in a safe direction should be to seek the support of friends and, if necessary, the help of professionals. If the problem is longstanding, you may find participating in a self-help group therapeutic.
Prepare Yourself
After you recognize the potential for a better life, naturally you'll want the person you love to follow. You can prepare yourself for the inevitable showdown by focusing on what you can control. You can help yourself. But if you think you can reform the person you love, you'll probably be disappointed. First, the one who is out of control must want to change.
Decide in advance that the confrontation is really about you. If you've been blaming yourself for the destructive behaviour of your loved one, it's time to stop. If you have been accusing the wrongdoer of ruining your life, that's also inaccurate. You made—and will continue to make—choices that affect your own happiness and health.
The person who has relied on you for years to ignore, cover up, or tolerate misbehaviour can be expected to resist and complain when you stop. When you take action to improve the quality of your life, the person may become angry and belittle your good intentions. That's normal. In some ways, you've protected the person from the consequences of criminal or antisocial behaviour. You can choose to stop contributing to the predicament.
When, Where, and How
Select the right time and place to confront the person whose behaviour is out of control. Don't try to discuss the issue when the person is intoxicated, and don't do it publicly. However, the sooner you bring the matter to the individual's attention following a crisis, the more effective your arguments will be. Turn off the television. As calmly as possible explain how the person's addiction or misconduct is hurting and upsetting you.
Be specific about the objectionable actions. Use examples. Are unpaid bills piling up? Have there been fights? Was the person arrested? Does she have blackouts? Have you found concrete evidence of adultery? Did he physically abuse you? Is there drug paraphernalia around the house?
Offer encouragement to improve the situation. If the person you care for seems willing to get help, suggest immediate steps to obtain treatment, counselling, or rehabilitation. Ask the person to make an appointment right then and there or to notify you as soon as possible after arranging one. You can offer to accompany the person or participate in counselling sessions. Remember to mention the person's good qualities and the reasons you care.
Avoid self-righteousness. Don't lose your temper or make accusations. Don't try to intimidate with threats you can't carry out. If you're in any danger because of the troublemaker's bad temper, it's best to minimize the confrontation. You can go to a shelter or a safe haven before explaining anything.
Enlist the help of others to reinforce your message. It can take many repeated attempts to achieve a breakthrough. Don't give up. You can realize your potential for a better life. You will move on. But it's okay to reach out and occasionally remind the person you care about that it's never too late to change.
You might also like...