Audio Surveillance Equipment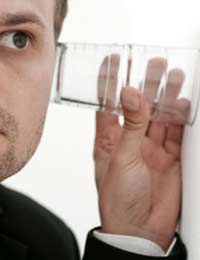 Secretly listening in to private conversations has never been easier with the range of sophisticated audio surveillance now available to buy.
Espionage Classic
Covert listening devices have long played a crucial role in espionage operations and they are still highly valued today where their use in secretly recording the sensitive chatter of others is more widespread than ever.
Audio surveillance has become increasingly sophisticated with the latest devices taking advantage of high quality audio and range offered by the GSM (Global System for Mobile communications) network. This is an open, digital cellular technology that is used for transmitting mobile voice around the world, and it means that users with the latest audio surveillance gadgets can monitor anywhere in the world where there is GSM coverage.
Booming Audio Surveillance Market
What's more audio surveillance equipment is more widely available than ever with countless websites dedicated to the booming industry of spying equipment. If the government is more intent than ever in monitoring our every action then by rights we should have access to the means to monitor theirs.
The spy wear market now offers a broad range of covert gadgets for the inveterate listener. Advances in audio technology have meant that crisp clear audio can be captured with minute devices that are very easy to hide.
As such spy equipment providers are able to offer this technology ingeniously concealed in a variety of difference guises, including pens, calculators, smoke alarms, table lamps, socket adapters and clock radios.
These designs have been chosen because as common and unremarkable fixtures in offices and homes, they can easily disappear into the background. For listening operations in less traditional environments, many specialist spy wear companies offer devices tailor-made to suit their requirements.
GSM Device in Action
To illustrate how efficiently a GSM device operates, we will consider the socket adapter.
This adapter is designed to fit in any UK wall socket and remain permanently powered up ready and waiting for you to initiate surveillance. This is done by dialling the SIM card hidden within the adaptor using a dial up phone. Once switched on, you are able to listen to sounds and conversations from an approximate 15 to 20 foot radius around the device.
There is no worry that the adapter will arouse suspicion if it fails to work when the subject or a third party tries to use it for its alleged function because, like all good quality disguised audio devices, it should be fully functioning in its secondary role. Whilst sneakily listening in on private conversations, the clock radio still tells the time and plays radio, the pen can still write and the smoke alarm can still save lives by detecting a fire in progress.
Listening devices are also available which start operating once they detect the sound of an individual's voice.
Capturing and Broadcasting Conversations
The voices caught using one-way audio surveillance can be captured as evidence or for future reference by means of an attached surveillance microphone that is in turn connected to a surveillance recorder. The conversation can also be broadcast to those who need to hear by means of an audio receiver.
Legality
Another major benefit to GSM technology is that it has effectively reawakened the legal audio surveillance market in the European Union. Prior to GSM, the main devices available utilised UHF (Ultra High Frequency) as a means to transmit the audio signal, and its use is currently outlawed in the EU. Therefore when researching audio surveillance devices it is important to consider their legality.
You might also like...