Spy for Your Local Council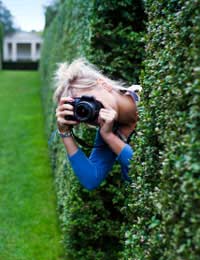 In recruiting volunteers to monitor local 'environmental quality' are councils effectively encouraging people to spy on their neighbours?
Citizen Recruitment Drive
When recruitment adverts posted by local councils first began appearing for unpaid environmental volunteers to report issues such as littering, dog fouling, fly-tipping, graffiti, abandoned vehicles, and bad recycling practices, the initiative was promoted as a way for locals that care passionately about their community to help cut crime and make their local environment a cleaner, greener and safer place.
The theory behind it is a worthy one but many have expressed fears that in practice there is a strong risk of the scheme being abused and helping to cultivate a culture of "bin spies and curtain twitchers".
Increasing Community Spirit or Stasi-esque Culture?
Councils were quick to assert that, as "ambassadors for their areas", volunteers are reporting offences and not people. Rather than alienate citizens that don't toe the line, their motivation is to increase pride in the local area and reclaim a community spirit that is often said to be dying.
Aside from reporting environmental issues, recruits are also involved in the promotion of recycling and waste minimisation across their respective district. Volunteers could also eventually be trained to report child abuse, racial harassment and other "hate crimes".
But some believe allowing citizens to monitor, advise and report their neighbours is another example of how the UK has become a surveillance society and is one step further into an Orwellian world of 'state-controlled spies'. One critic likened reporting a neighbour for their recycling infringements to something out of Stasi-controlled East Germany.
There are strong fears that many volunteers will abuse their position by snooping on and reporting neighbours that don't conform, and that local authorities, despite official opposition to the idea, would not ignore tip-offs about certain individuals.
Councils have nevertheless admitted that there is a danger that if volunteers report on their neighbours' activities – particularly those of a criminal nature - then they will become targets for retribution, an acknowledgement that cannot fail to raise concerns about the scheme's positive contribution to community spirit.
Surveillance Schemes
This is just one in a series of controversial schemes where local authorities are attempting to control their citizens by granting powers to certain dutiful members of the public.
As part of the Home Office's Community Safety Accreditation Scheme thousands of ordinary people – including park wardens, security guards and other local authority staff - have been given limited police powers to help apprehend and penalise those responsible for minor crimes, such as by confiscating alcohol and issuing penalty notices.
Councils in England and Wales have also been found to use controversial spying laws of as part of their efforts in controlling citizen misbehaviour. Devised to fight serious crime, The Regulation of Investigatory Powers Act (Ripa) has been used frequently by authority officials not to counter terrorist threats, but to spy on suspected dog fouling, littering and other minor offences.
There are some schemes that even use financial incentives. In some areas members of the public receive cash rewards if their tip-offs about an "unlawfully occupied" property lead to a repossession.
There are concerns that the employment of "regular" people to carry out policing duties and the over-use of surveillance powers undermines people's trust in proper law enforcement. With reports of surveillance powers being abused commonplace in the news, the public need to have confidence in who has these powers and that they are used in a fair and even manner.
Whatever Happened to Community Spirit?
Many citizens are now growing tired of being spied on and have become mistrustful of official schemes that purport to be helping create a better and safer environment. The recruitment of ordinary people to propagate their will is unlikely to make it any easier to swallow. Rather than build community spirit, giving citizens a badge of authority to carry out official duties can breed resentment and suspicion, even if they have no interest in snooping on their neighbours' activities.
After all behaving like a good community conscious citizen shouldn't require the sanctioning of a costly local authority scheme. Citizens have long been able to talk with their neighbours if they're doing something that is adversely affecting their local environment, and report nuisances or crimes to the appropriate official body. If you see something wrong, you shouldn't need a badge or a reward to report it or try to help to fix it.
You might also like...