Changes in Children's Behaviour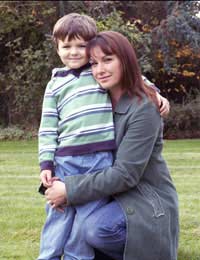 You want to be a good parent. You're caring and concerned in spite of your busy schedule and the relentless pressures of daily life. You're a bit alarmed by recent changes in your child's behaviour, but you don't have evidence of a real problem. What can you do?
The Very Young Child
Authorities on child development are skilled at recognising when behaviour exhibited by a young child is clearly incongruent with the child's age. Parents can also try to be alert for these red flags. Such indicators can be as simple as the language used by a child. If a very young child is using extreme profanity usually heard only from teens and adults, or if a child is talking about subjects typically reserved for adult conversations, it's a sign the child is being exposed to influences that might be inappropriate or even harmful. Young children are often frank enough to tell a parent or trusted caregiver how the information or language was learned, provided the adult inquires in a gentle, non-coercive fashion.
Another troublesome sign in a very young child is physical play that imitates adult behaviour not normally observed by a youngster. If you notice a preschooler with playmates, for example, imitating adult sexual conduct, the child's motivation should concern you. If you can rule out accidental viewing of adult videos, parents unintentionally observed "flagrante delicto," or the influence of media-obsessed teenage siblings, then it's time to look for the source of the little one's precociousness.
Eliciting accurate information from children under the age of eight, or those with developmental disabilities, often takes special training and may require the assistance of an expert in the medical, educational, or legal field. Parents can unwittingly influence young children's explanations simply by phrasing questions in a way that suggests the expected answers. If you have a reason for serious concern regarding a child's welfare, enlist the help of a specialist immediately. Most experts agree that compelling a young child to repeatedly explain a traumatic event will yield unsatisfactory results. Parents should demonstrate calm, love, and support for the child. This is especially important, as well as very difficult, if disturbing information gradually comes to light.
The Adolescent
By the time a child reaches the preteen or teenage years, it's easy for parents who are exhausted and overwhelmed by their responsibilities to assume that erratic, moody, provocative behaviour is simply an adolescent's rite of passage to adulthood. Good parents remain vigilant without being unreasonable. They know to watch for certain signs that can indicate drug or alcohol abuse, gang or cult affiliation, mental and eating disorders, or a variety of delinquent behaviours.
It's normal for adolescents to test parental limits and to experiment with new trends that break with past traditions. While this can cause friction in families, it's also relatively harmless. If you notice any of the following indicators, however, further investigation is in order:
Deteriorating schoolwork, frequent truancies, or a sudden inability to concentrate.
Depression, paranoia, extreme hostility, or lack of communication with family.
Devotion to new companions.
Abrupt disinterest in activities that once were favourite pastimes.
Unexplained household thefts.
Physical symptoms of illness, such as wounds, extreme weight loss, bleary eyes, or a constant cold.
Unfamiliar paraphernalia or property, such as weapons, chemicals, pipes, rolling papers, cigarettes or cigars, vials and flasks, syringes, lighters, extremist literature, financial documents, strangers' credit cards, or consumer goods and clothing your child had no means of purchasing.
Choose the right time and approach to discussing your suspicions with a child. Do it privately, when you are able to remain calm, and when the child is not under the influence of drugs or alcohol. To facilitate a candid discussion, avoid making judgmental accusations. Begin by talking about the potential causes of the problem or what has been happening in the child's life. If you focus immediately on the unacceptable behaviour, you'll lose a crucial opportunity to discover why the child chose to act in a way that was risky or self-destructive.
If you have difficulty getting your child to talk about a problem, ask for the help of a school counsellor, medical specialist, mental health professional, or law enforcement officer.
Plenty of parents proclaim their children's innocence of wrongdoing and isolate them from the intervention of well-meaning authorities, even when serious problems are obvious to everyone outside the immediate family. A parent or caregiver exploring the information available on this website probably doesn't have the blind spot that can be the first obstacle to finding a solution.
Loving parents remain vigilant, teach children the value of communicating by being effective communicators, govern their children and seek help if and when it's needed.
You might also like...