School: Teachers and Other Staff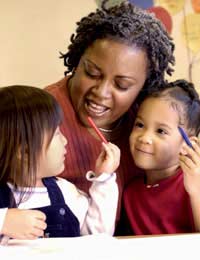 The part that teachers, coaches, and other school staff play in the development of a child is almost as important as the role of the child's parents. Early learning can affect a young person's self-esteem and outlook on the world. Attitudes and behaviours acquired in school can influence a child's ability to succeed in a future career and in personal relationships. Attentive parents try diligently to ensure their children get the best possible education, which can only be provided by qualified professionals.
Teachers and school staff work with students from many different ethnic, racial, religious, and economic backgrounds. Although schools often train their staff to appreciate cultural diversity, there can occasionally be residual prejudice among some employees. It's a good sign that your child's teachers are aware and accepting of the variety of students in the classroom when multicultural themes can be observed in their lesson plans.
How Effective are the Teachers?
It's arguably easy to measure a teacher's effectiveness by looking at students' test scores and performance in subsequent school years. However, educators are quick to point out that the process of instructing youths is a long-term collaboration among teachers, school administrators and staff, parents, taxpayers, volunteers, and even the media and clergy. Much of the difficult work of socialising young people can be undone by yob culture, dysfunctional families, or a single irresponsible adult who exerts a corrupting influence.
If your child seems to be suffering from the persistent poor discipline of other students in the classroom, the fault could lie with your child's teacher. Students' misbehaviour can stem from boredom when instruction is inadequate. Disorderly conduct can also express students' resentment of an educator's cynicism. If a teacher or coach continually criticises and shames children with sarcastic remarks, some students will rebel by sabotaging the learning process. Encourage your child to talk to you about the nature of communication between students, teachers, coaches, and school staff. Don't allow your child to be bullied.
Resources
Through the BT Education Programme you can obtain free interactive videos, online games, and lesson plans to foster better communication skills among children and their teachers. Another good resource is UNICEF UK, an advocacy organisation that works to improve children's rights. The Teacherzone portion of the UNICEF UK website offers many free downloadable publications, games, and newsletters on topics such as "Creating a Cooperative Classroom."
You may need to ask your child's teacher or school to improve parents' participation in the educational process. Or your concerns may involve your child's access to special education necessitated by learning disabilities, intellectual giftedness, language barriers, emotional or behavioural problems, or physical disabilities.
You can use the advice on DIYSpy to discover more specific information about your child's teacher or school staff. Has the individual published any opinion pieces that provide insight into a teaching or coaching philosophy? Do any news articles quote the person? Does the individual have a blog? Professional educators are not always careful to avoid public comments that can adversely affect their reputations. It's becoming commonplace for people in all walks of life to post information about dating, sex, and substance abuse indiscriminately in personal ads and web pages. Pseudonyms are no protection for an unscrupulous educator. Chances are your child will learn of a teacher's or school staff member's scandalous behaviour before you do. Don't ignore what may sound like mere gossip. Misplaced loyalty might prevent your child from fully revealing incriminating information about a teacher or coach. Engage your child in regular dialogue about what happens at school.
Teachers, educational psychologists, and other school staff can be held liable if they are negligent in providing due care to children for whom they are responsible. Schools are obligated to provide a standard of education. If you have a concern about your child's classroom, you should first speak to the teacher. If you don't obtain satisfactory results, then you should take your complaint to the Head Teacher. If the matter cannot be resolved at the school, you can seek assistance from the Local Education Authority or a solicitor. The National Union of Teachers is the major trade union that ensures compliance with laws preventing school teachers from being fired in the absence of just cause and due process. You can rest assured your complaint will not unfairly result in a teacher's dismissal.
You might also like...