Children and the Internet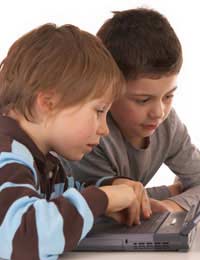 Some consider it protecting. Others prefer to think of it as tracking. Yet still others admit to outright snooping. Whatever label you want to give it, parental supervision of a child's Internet use is common. In fact, most adults agree that (at the very least) children under 10 years of age do not have the necessary critical thinking skills required to stay safe and secure online. In order to keep children safe on the Internet explaining appropriate precautions, creating a "safe" list and spot checking their patterns are all methods that adults can employ.
Explaining Appropriate Precautions
The Internet sometimes baffles children because it does away with the face-to-face aspect of interactions so many of them simply believe that logging on to the Internet is akin to watching a DVD or playing an electronic game - something they are doing in their own home. Explaining to children that the Internet connects people around the world is important, as is telling them exactly what the household rules are regarding Internet usage. Posting a copy of the rules may be helpful so that no one has any excuse to break them. Tell your children that it is never okay to give out their name, address, telephone number, date of birth or any other type of identification information. If needed, make up a screen name for your child so that their identity is protected. Also advise children that if anyone attempts to contact them or wants to be their friend that they must report this to you immediately.
Creating a Safe List
Children become computer savvy in short order, so after showing your child around your home computer and the Internet go ahead and set up a "safe" list for him or her. Simply bookmark the sites that you have investigated and have agreed that (s)he is allowed to visit and show your child how to access this favourites list. Also bookmark child friendly search engines like KidsClick!(www.kidsclick.org)which will only display search results which are appropriate for viewing by a child. Remember to read the details of each search engine thoroughly, however, as the age ranges of intended usage will vary.
Spot Checking Their Patterns
Spot checking children's Internet usage patterns is a good way for parents to see if their online behaviour is appropriate. Using the "history" function will allow you to see what sites your child has visited and what search terms they recently used. Installing software such as Net Nanny (www.netnanny.com) will help limit the site options available to a child, and asking your Internet Service Provider (ISP) to filter content and give you more information on disabling or "killing" tracking cookies may also help you supervise what your child sees and where (s)he goes online. Browsing the cache files in your own computer (temporary Internet files based on what has been viewed) is another way of spot checking a child's Internet behaviour.
Children and the Internet is a dangerous combination. On the one hand the Internet is an amazing resource both for education and entertainment, but on the other it has the potential to be very harmful to a child's safety and security. Explaining appropriate precautions, creating a safe list of sites and search engines and spotting checking their Internet patterns are all ways that adults can help supervise a child's Internet usage even if (s)he can not be present at all times.
You might also like...