What to Remember or Collect if You're Mugged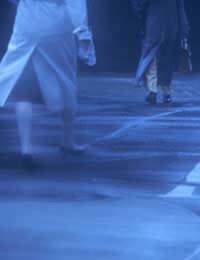 This article is not about ways to avoid becoming a victim. It's about what you should do if you do become a victim. Criminals use physical force to succeed, so you can be injured by a mugger who never gives you a chance to willingly surrender your property. You can be battered because you resisted the attack. Or you can be threatened but not physically harmed. The important thing is to survive.
Dial 999
Depending on the severity of your injuries, you should first seek medical attention and the assistance of the police. If you ring 999, the operator will ask you what happened. Be prepared to provide your exact location, so the operator can dispatch an ambulance, paramedics, and police officers as needed. Because the 999 operator must juggle several tasks at once, you will need to remain as calm as possible. It can help to stay on the line until assistance arrives or is near. By continuing to speak clearly to the operator, you can provide additional details and description that will help the police begin an immediate search for your assailant and your stolen belongings. What you say during the call is recorded, and the recording can be admitted as evidence in a future trial.
If your injuries require more than simple first aid, you'll be transported to a hospital for emergency medical treatment. Ask for copies of the records of your treatment. They are important evidence. The police often conduct follow-up investigation at the hospital. However, it's important for the police to respond to the actual scene of the mugging, where there can be evidence to collect and witnesses to identify and interview.
Whom to Notify
If your identification, credit cards, personal cheques, or mobile phone are stolen, you'll need to notify the issuing agency, bank, or service provider promptly. When you make the calls, ask whether your cheques, bank card, or mobile phone was used subsequent to the mugging. Information about the fraudulent use of your credit cards or about calls placed with your telephone can lead to the identity of your attacker. The police will want to have the details as soon as possible. Alerting one of the major credit reporting agencies will also help to protect you from identity theft.
Even if you suffer no loss and are not injured in the attack, you should still report the incident to police. You might be able to give a description of the criminal that other mugging victims are unable to provide. You can help prevent someone else from being victimised.
Useful information about your attacker includes your description of the person's:
Exact statements, especially threats of harm
Weapons, either implied or displayed
Direction of travel before and after the attack
Vehicle and number plate
Approximate age
Facial features, hair, and body
Clothing, shoes, jewellery, and glasses
Accent, language, as well as mental and physical states
Possible accomplices
A police officer will interview you and ask you to sign a crime report. Ask for the crime reference number, which you'll need in order to file insurance and compensation claims, as well as when you contact the assigned police investigator to inquire about the outcome of your case.
Compensation
The Criminal Injuries Compensation Authority administers monetary compensation to victims of violent crime. For more information, refer to
Are You Eligible for Compensation?
. You can also seek monetary compensation by filing a civil lawsuit, which we describe in the article
Investigating Civil Claims
. It's possible a third party created circumstances that led to your mugging. That party may be held partially liable for your injuries and losses.
As time passes, your memory of the attacker will diminish. It's normal to become suspicious of every stranger who looks similar to the mugger and to see your assailant's face in every wanted poster and news broadcast. The police understand this tendency and try to compensate for it by gathering evidence from other sources in addition to the mugging victim.
It can be good to talk to others about your experience. Some crime victims become bloggers. Others contact Victim Support, a charity that offers counselling and information services to victims of crime.
Visit the Crimestoppers website, to see national and local appeals for information leading to the arrest of the most wanted criminal offenders. You may never become a victim, but you can help to solve crimes, identify the most serious offenders, and prevent others from being harmed.
You might also like...